Video camera, semi professional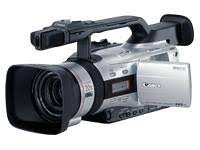 Video camera 1: Canon XM2
Semi professional video camera
Uses Mini DV tapes (you can buy these from us for £4.50);
3CCD image quality
Comes with an inbuilt mic and external plug-in condensing microphone
Both of our video cameras record onto mini-DV tapes – to download the footage, you will need a firewire port on your computer. If you don't, we have a laptop you can hire at half-price with the video camera which has one. We also have a computer in the Centre which has a firewire cable. Please ask us if you require either of these options.
Price
£18.25
We supply
Video camera
Carrying case
Basic instructions
Battery and charger
Leads to connect to TV/VCR/PC
Scart adaptor
Microphone and lead
Mini DV tapes
Tripod
You need
ID on collection.
Video editing software.
Firewire or IEEE 1394 port on your computer.
To make a booking request for this item of equipment, click Add to basket. When you have added all the things you want to book, click View Basket to complete your booking request. If you prefer, you can also book equipment by calling us on 01273 606160 or emailing us.