One Stop Carriers for Causes
Grants available for: projects that benefit local communities within 2 miles of a One Stop store (in Brighton & Hove, this is 188 Nevill Road, BN3 7QQ)
Size of grants given: Up to £1,000
No deadlines
Aims of Fund
Projects must meet at least one of the following outcomes:
Improving the lives of young people
Improving the lives of the elderly
Promoting physical activity
Improving health or well being
Increasing community safety
Protecting or improving the local environment
Who can apply
Non-profit making organisations can apply as long as they have a governing document/constitution.
How much and what can you apply for
Grants of up to £1,000 are available for projects that benefit local communities within two miles of a One Stop store, that meet the outcomes above.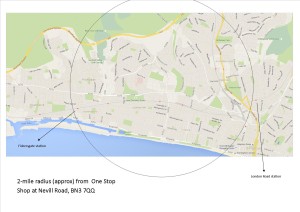 Examples of eligible projects include, but are not limited to:
One off community events such as community fun day expenses, summer youth camp, litter picking, day trips costs for community based clubs or organisations, sports events, expenses to pay for terminally ill cancer patients on visits to the seaside
Purchasing items to run a project such as specialised medical equipment, football/cricket /netball kit for local junior club, arts and craft materials for a workshop, kitchen equipment for a healthy eating project, marketing materials for an event, fishing kit for youth project
Improvements to community buildings such as painting, refurbishing buildings such as hospices, scout or guide huts, school building, community centres
Improvements to external spaces such as park clean ups, community gardens, hospital/hospice gardens, disabled access projects, food growing projects, woodland walk
Purchasing materials to undertake a place based improvement project such as buying paint, litter pickers, gravel, grass seed, plants, and benches
How to apply
Follow the instructions on the website.
Deadlines for application
This is a rolling programme, and applications will be accepted throughout the year.
Contact details
http://www.groundwork.org.uk/Pages/Category/carriers-for-causes-uk
Contact Form:
http://www.onestop.co.uk/contact.php
Charity & Community Enquiries: 01543 363 010
Date & initials
20/07/16 MS