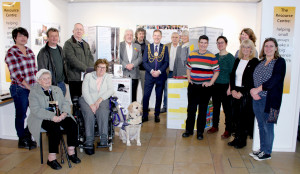 Our exhibition, which celebrates our 40 year history supporting small local groups, is now on display at the Jubilee Library.
It was launched by the Mayor of Brighton & Hove Cllr Pete West on 16th January, and will remain open until 4pm on 22nd January. The Mayor said " I'm a big fan of the quiet, cooperative work the Resource Centre does, and proud to have them as one of my mayoral charities. I doubt we would have such an extensive and successful community sector in the city were it not for this organisation, it is an unsung hero, and I'm very glad to be able to help to celebrate and thank them for what they do".
Kate Page, who has worked at the centre since 1982, said "Small groups create support networks and give people a sense of belonging, which cannot be matched by any top-down large organisation. For example, a street party run by a group of neighbours is much more than just a day's entertainment. It gives people a sense of pride in their neighbourhood, and a feeling of achievement at having organised an event for their families to enjoy. It also helps residents build friendships with one another, which reduces isolation."
Beryl Tucknott, a trustee, has been using the Resource Centre for 25 years.
She said: "I first came to the Resource Centre in 1991, when we set up Robert Lodge Tenants Association with the help of Mary Mears. Tenants didn't have a voice, and we set up the Association to represent tenants' interests. We managed to get community rooms and a laundry. The Resource Centre helped us with minute taking, bookkeeping and publicity. We wouldn't have been able to set up the association without them."
A big thank you to the Mayor Cllr. Pete West, Cllr. Leo Littman, Cllr. Dee Simson, Cllr. Mary Mears and Cllr. David Gibson, and to the Resource Centre trustees, for attending the launch to celebrate the work of the Centre.