A learning organisation: how we evaluate our work
All our services have been developed over the years as a result of requests from local community groups, and learning from the experiences of our user groups is vitally important to us. It is how we know whether we are doing a good job, whether our services are meeting our aims and what we need to change. We actively seek feedback in all our work.
Our feedback and evaluation process draws together:
informal feedback from conversations and comment cards at the front desk
evaluation forms sent to member groups after completing each substantial piece of support work or examination of accounts
case studies of the impact of our work
reflective discussions within our staff team
strategic discussion and policy decisions by the management committee
Our own survey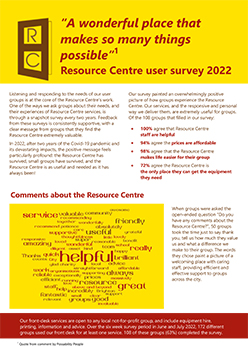 Every two years we ask every group who uses us over a four week period about their experience with us. Our 2020 survey was prevented by the Covid pandemic, so we were very pleased to be able to carry out a survey in June and July of 2022. Over the six week survey period, 172 different groups used our front desk for at least one service. 108 of these groups (63%) completed the survey.
Feedback from our surveys has always been consistently supportive, with a clear message from groups that they find the Resource Centre extremely valuable.
In 2022, after two years of the Covid-19 pandemic and its devastating impacts, this positive message feels particularly profound: the Resource Centre has survived, small groups have survived, and the Resource Centre is as useful and needed as it has always been!
Our 2022 survey painted an overwhelmingly positive picture of how groups experience the Resource Centre. Our services, and the responsive and personal way we deliver them, are extremely useful for groups. Of the 108 groups that filled in our survey:
100% agree that Resource Centre staff are helpful
94% agree the prices are affordable
98% agree that the Resource Centre
makes life easier for their group
72% agree the Resource Centre is the only place they can get the equipment they need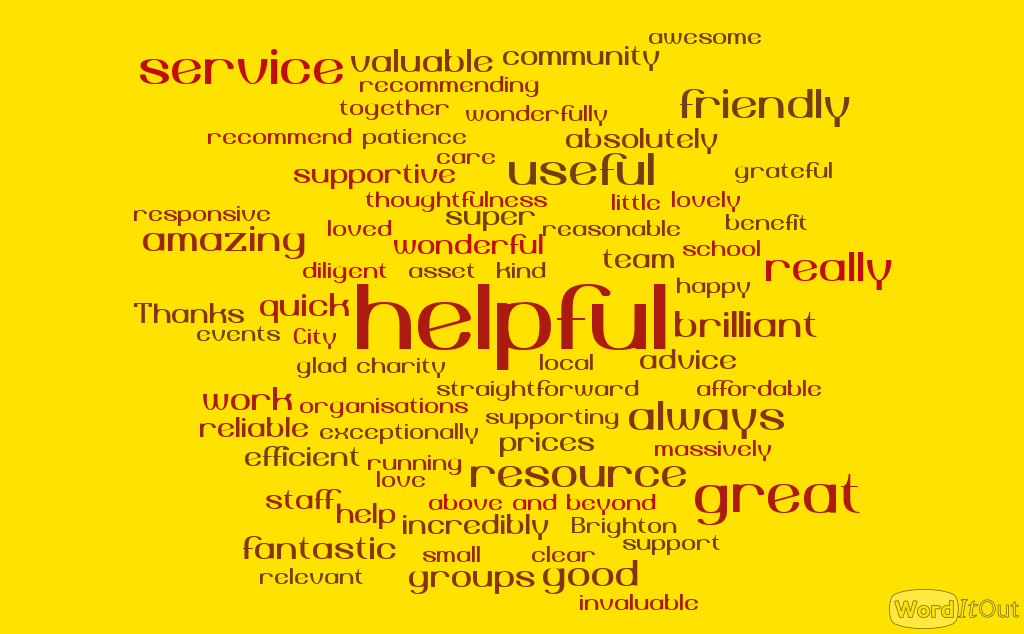 When groups were asked the open-ended question "Do you have any comments about the Resource Centre?", 50 groups took the time just to say thank you, tell us how much they value us and what a difference we make to their group. The words they chose paint a picture of a welcoming place with caring staff, providing efficient and effective support to groups across the city.
Resource Centre services are specifically aimed at small, volunteer-run groups based in Brighton and Hove. During the Covid-19 pandemic, it was small groups who were responsive and flexible enough to meet the changing and unpredictable needs of their communities.
Of the 108 groups who filled in the survey:
77% are run mostly by volunteers
56% have 10 people or fewer involved in their organising meetings
72% had not received a grant from Brighton & Hove City Council in the last 12 months
42% had not received any information, advice or practical help from any organisation other than the Resource Centre in the last 12 months
We asked our user groups to describe what they do in their own words, and their answers revealed a broad range of activities supporting a huge diversity of communities. Small group organisers and volunteers are busy all over the city—making art, holding street parties, sharing food, fixing bikes, teaching and learning languages, growing flowers and fruit, playing sport, raising funds, welcoming refugees and improving neighbourhoods.
What all these groups have in common is that they bring people together, directly reducing loneliness and creating an opportunity for people to improve their own lives and those of their friends and neighbours.
We pay attention to every comment in our survey. Many groups had suggestions for how we could run things slightly differently, or make our services more accessible or flexible. Our staff team will consider each of these and assess their viability in the broader context of Resource Centre work.
Feedback from our member groups
Each time we carry out a piece of intensive support work for one of our member groups, we ask for feedback and comments. In 2022-23, we did 53 examinations of accounts and 233 support sessions for our priority groups.
Examinations of accounts
"Thank you so much for doing our accounts. It's good to know we always have someone friendly and reliable to help us. If it wasn't for you, it would be a lot harder for us!"
East Brighton Bygones

We give groups a postcard to return with a rating of our work and any comments, when we complete the examination of their accounts. 54% of the cards we gave out were returned and 96% of these rated our work as excellent.
Support and advice
When we spend at least an hour with a group, providing support and advice, we contact them a few months later to ask for feedback.
In 2022-23, 61% of our feedback requests received a response. 96% rated our support as excellent, 88% said they felt more confident as a result of our support and 100% said they thought it would help their group to work better.
Case studies
We produce occasional case studies to highlight particular aspects of our work.
Member group responses to the Covid pandemic, 2020-22
Third Sector Investment Programme, 2017-20
As part of our monitoring for this funding from Brighton & Hove City Council, we produced the following case studies: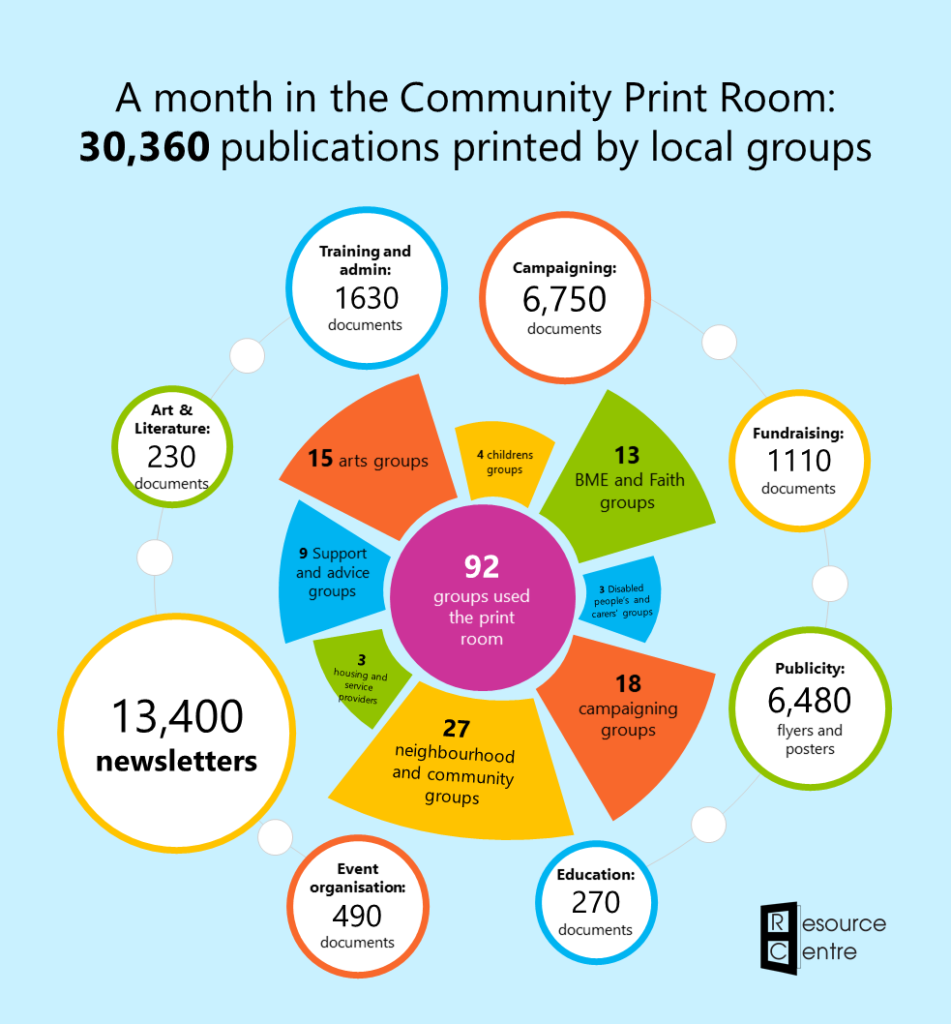 Clinical Commissioning Group, 2017
In 2017 we produced two case studies showing examples of small groups whose work makes an important but often unnoticed contribution to the health and wellbeing of local residents:
Money in Mind project
Our Money in Mind project was evaluated twice by independent consultants – half-way through the project in 2012 and again at the end of the project in 2014.
On both occasions, the consultants' report concluded that:
Groups found the support offered by the Money in Mind project to be of excellent quality, and all beneficiaries would recommend the service to their colleagues and friends.
A large majority of groups who received support from the Money in Mind project reported that their skills, confidence and knowledge had improved following the support.
A majority of groups reported that they were better able to raise funds following the support they had received.
Three of the six case studies in each report featured groups who had received support from the Resource Centre (the other three had been supported by our project partners, Impact Initiatives). In the 2012 evaluation, these were:
In the 2014 evaluation, they were:
To read these case studies in context, and see the results of the online surveys, see the full 2012 evaluation report (PDF) and the final evaluation report produced in 2014.
Last updated: August 2023