How we are funded
Where our money came from
in 2018-19 …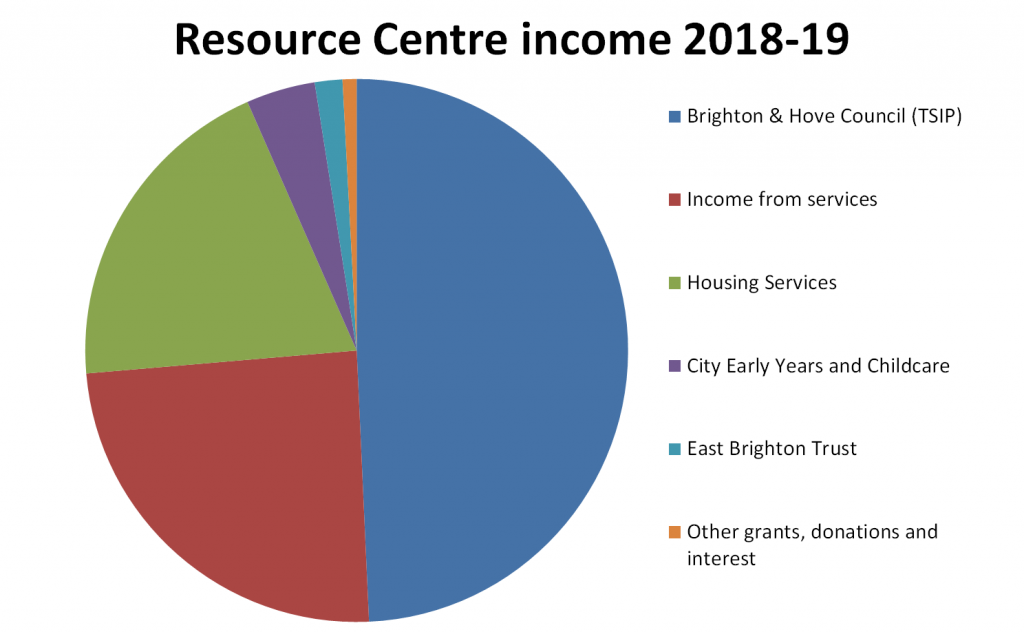 In the financial year 2018-19 we received a total of £182,348.
Just under a quarter of this income (£44,445) was generated by our equipment hire service and community print room.
Almost all of the remainder (£133,383) came from regular grants and contracts:
This was the second year of the Third Sector Investment Programme (TSIP) funded by Brighton & Hove City Council and the local Clinical Commissioning Group. This funds most of our front desk work enabling us to provide our print, hire and advice service on a drop-in basis 28 hours a week. It provided 49% of our total income in 2018-19 (£89,853).
We are contracted by Brighton & Hove City Council Housing Services to provide free advice and support to tenants' associations and secretarial support for their participation in the Resident Involvement structure. This contract accounts for just under 20% of our income (£36,030).
We offer advice and support and bespoke software development for early years and childcare settings in the most deprived neighbourhoods of Brighton & Hove. This work is free of charge to the groups, and is funded by a contract with City Early Years and Childcare. In 2018-19, this funding accounted for 4.1% of our total income (£7,500).
In addition to these regular grants we were grateful to receive in this year a grant of £3,000 from the East Brighton Trust to help support our advice work to grass roots groups in Moulsecoomb and Whitehawk. This grant plus small donations from individuals and some bank interest made up 2.4% of our income.
… and where it went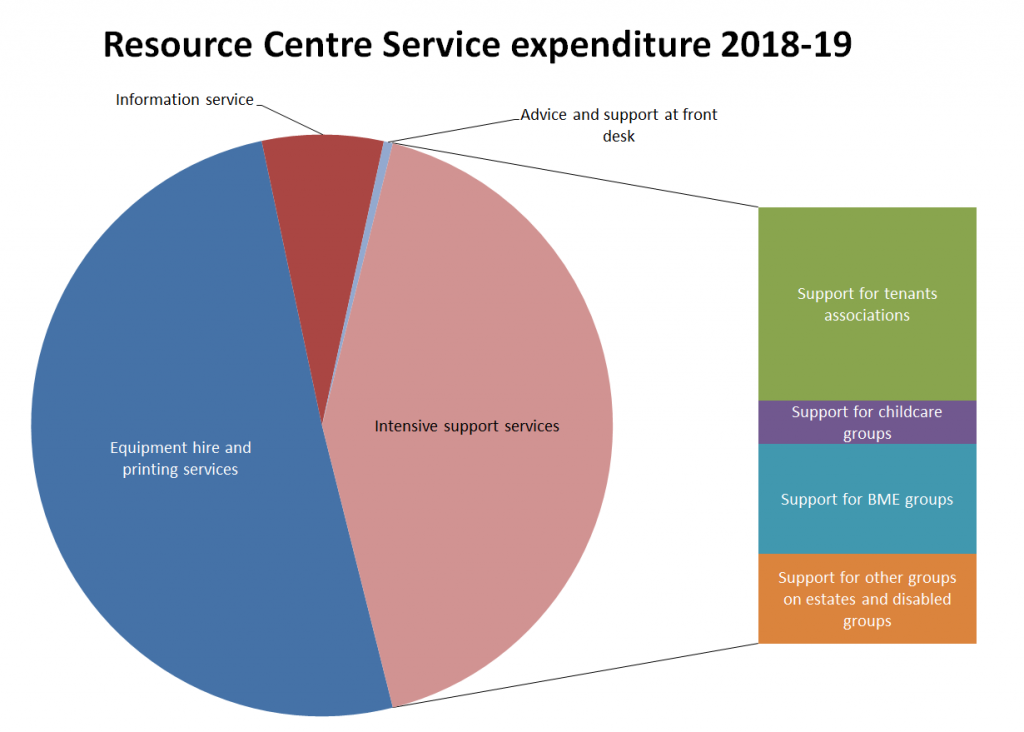 In the financial year 2018-19 we spent  £193,071 on service provision to groups.
The majority of the service expenditure was on our equipment hire and community print room services.  Together these cost £97,673 (51% of total service expenditure.) Around three quarters of the cost of the equipment and print services is staff wages with most of the remainder being spent on consumables and repair and maintenance of equipment.
The next biggest expense is the intensive support service, our advice, training and consultancy work with groups in our priority areas. This costs £81,396 (42% of total service expenditure.) Within this sum we track expenditure by various client groups, mainly to allow us to monitor the different aspects of the work for funding purposes.
The largest expenditure under this heading is on support to tenants associations. This work, which includes our secretarial support to the consultation structure, cost a total of £36,030 in 2018-19. This was 18.7% of total expenditure and was covered by our income from Housing Services.
The next largest expenditure is on work with black and ethnic minority groups. This cost £20,559 (10.6% of total expenditure) in the last year. This was partly funded in this year by the grant from Sussex Community Foundation and partly by the TSIP funding. We have again received funding from Sussex Community Foundation to continue this work in subsequent years and are topping this up from our own income and reserves.
We spent £16,690 (8.6%) on support to social groups on estates and groups of disabled people. This was partly funded by our grant from East Brighton Trust and partly from our own income and reserves.
Our work with childcare groups costs £8,117 (4.2%) and is mostly funded by a grant from City Early Years and Childcare.
Lastly we spent a small amount of money – £978 (0.5%) – on advice to non-priority groups at our front desk. This is funded from our TSIP funding.
The final area of expenditure is on our information service. This cost a total of £13,023 (6.7%). The majority of the cost was on staff time to gather and update information. Some of this work was funded by our TSIP grant and our funding from Housing Services, with the rest funded from our own income.
The above breakdown shows all of our expenditure by service area. It is also possible to look at the figures in terms of how much was spent on service delivery – staff costs and consumables for equipment – and how much on support costs – rent, telephone, heating etc. Breaking it down like this £170,596 (88%) of our expenditure was on delivering services to groups and £22,475 (12%) on indirect costs.
Full details of our income and expenditure are in our 2018-19 Annual Accounts which were agreed at our AGM on 10th October 2019.
Last updated: August 2019